5 Questions: Leah Thorvilson, Professional Cyclist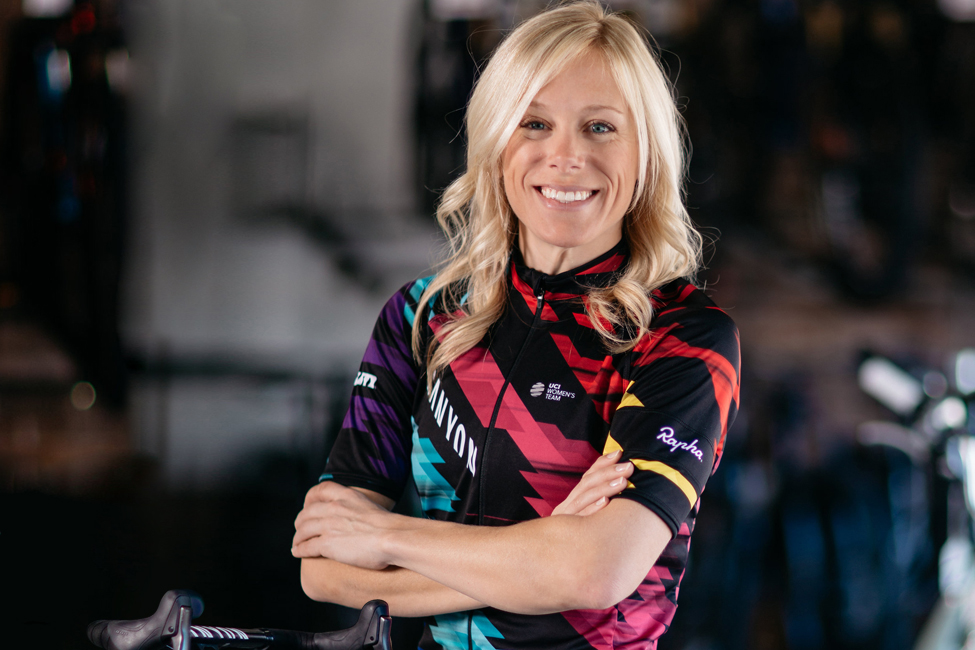 Life often requires you to monitor and adjust, but you don't have to tell Leah Thorvilson that. After injuries ended the running career of this former U.S. Olympic trials marathoner, she hopped on a bike. Fast forward to 2017 and she now has a spot on the Canyon–SRAM women's professional cycling team — which she won after competing against hundreds of women on the virtual Zwift Academy, then spending 10 days in Spain riding with the other top two contenders and the Canyon–SRAM team before being offered the pro contract. Monitor, meet adjust.
Your path to cycling has been an unconventional one. Can you tell us how you got there?
I was a competitive distance runner for years. Beginning in 2012, I had a series of injuries most likely caused from overuse and inflexibility. I ended up having four surgeries between 2013 and 2015, the first to reattach my left hamstring and the next three on my right knee. I was told that I might not be able to run again, and definitely wouldn't be able to do any high impact activity for an entire year following the last surgery — a bone graft to my femur in November of 2015. I have always been very active and a bit of an endorphin addict, so I knew I would have to find an alternative. That's why I bought a bike.
How has becoming part of the cycling community influenced you?
The cycling community has become like family to me. I never would have guessed that there was a sport outside of running that I could love so much, and that had the same spirit of camaraderie. Everyone who has a bike wants everyone they know to have a bike. We all want to grow the sport and I've seen that happen in Little Rock. We are getting more races across all disciplines from road crits to cyclocross. It's really incredible to see everyone united by the common bond of cycling working together to grow that community.
How do you define success? Has your definition changed over the past few years?
I think the literal definition of success is completing or achieving a goal, whether that be a goal of winning a race, excelling in a career or learning to cook a perfect lasagna. Success is reaching that benchmark or completing that plan that has been set before you. I don't think my definition has changed, no. I may have altered my goals or expectations of myself, so in that regard, the "picture of success" I have painted for myself might look different, but the definition is still the same.
What would people be most surprised to know about you?
I answered this question recently for something else and I can't remember what my answer was because I think I'm a goofball so nothing I say or do really seems to surprise anyone anymore. However, in conversation it came up that I was on the dance team in high school, and that turned out to be equal parts humorous and surprising … Apparently I don't look like someone who would have incredible dance moves like Napoleon Dynamite.
Do you have a mantra you live by?
I don't have a mantra, but I think what I have learned in the past four years is to have patience and trust God's plan. Life doesn't always happen the way we want it to or the way we think is best, and that's not an easy thing for most of us to grasp. I've had numerous situations where I was broken down, and in the moment it's very confusing and hard, but looking for the silver linings and seeing how everything plays out in the end, you find that you are right where you were meant to be. You have to take the hand that you've been dealt and own it. Make your life awesome.
---
Lightning Round
When you're not cycling, your favorite form of exercise: Running
The best time of day to work out: Morning
Your favorite way to treat yo'self after a long workout: Beer
---
SEE MORE 5 QUESTIONS:
5 Questions: Stuart Walker of Clubhaus Fitness
Permalink