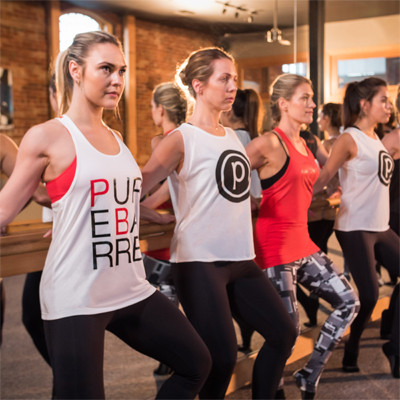 This workout's
for you if...
you want to tighten up your booty, thighs and core
you prefer a slow pace (but still need your butt kicked)
you're pregnant
you like to make new friends
Barre
The Basics
What started as a ballerina's idea to add dance conditioning to her injury rehab has now become one of the fastest-growing workouts in the fitness world. The ballet-inspired exercise took what was first marketed to nimble dancers and morphed it into something that appeals to a broader audience. No dance experience — or even rhythm — is required.

Barre is ideal for those looking for improved posture, muscle definition, weight loss, increased flexibility and reduced stress. It's a low-impact activity accommodating virtually any age and fitness level, even expectant mothers.

Workouts include arm exercises and lower-body moves at the dancer's barre while light weights or exercise balls are introduced into some exercises, depending on the workout. One distinguishing feature of barre is the importance of small movements; just one-inch increments measure progress and promote muscle elasticity without tearing. Most movements also engage multiple muscle groups, allowing for an efficient, full-body workout.

BONUS

Shaking is not only to be expected at a barre class, it's a badge of honor! Holding positions contracts the muscles, and as they fatigue, muscles tremble. It's a sign that the exercise is having the desired effect and that you're working hard to earn it.
The Gear
For all you workout gear junkies out there, ZenStudio and Pure Barre both have in-store boutiques that carry some of the top barre, pilates and yoga fashion lines in the country. Keep an eye out for these brands:

Pure Barre
Pure Barre
Nux Activewear
Alo Yoga
Onzie
Beyond Yoga
Tavi Noir

ZenStudio
Beyond Yoga
Alo Yoga
Spiritual Gangster
Feetures
Toe Sox
The Lingo
Tuck
A signature barre move, pulling your hips forward and up while contracting your abs backward
Pulse
Repeating quick, small movements into a held position
Proper posture
Ears over shoulders, shoulders over hips, hips over heels
The Time
60
minutes
The Burn
Up to
500
calories per hour class
*Average sourced from LiveStrong.com