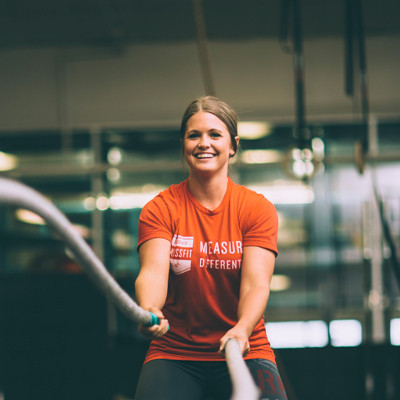 This workout's
for you if...
you want to lose weight or get ripped.
increasing strength is a priority.
you love a challenge and are goal-oriented.
you prefer to workout in groups.
Crossfit
The Basics
In the past decade, the once CrossFit "craze" has now become a regular part of life. Many who were once hesitant have now embraced the core strength and conditioning program that has redefined the fitness industry.

Each gym (known as a box in the CrossFit world) features workouts combining elements of weightlifting, body-weight exercises, gymnastics and calisthenics for exercises that stress functional movements. In other words, these multi-joint exercises are movements meant to mimic what people use every day in their normal life.

Although often viewed as high intensity only, many CrossFit boxes feature a wide range of participants from kids to senior citizens thanks to the scalability of exercises. And if you're wondering why your friends keep talking about it, it's because the community built around CrossFit is a key aspect of its effectiveness.

BONUS

If you're into competition, the CrossFit Games provides ample opportunity to test your mettle against fellow athletes from around the area or around the world.
The Lingo
WOD
The workout of the day for a given class; workouts are named, like "Fran," which consists of 21 thrusters and 21 pullups, followed by 15 of the same, finishing with nine of each.
Kipping
Gaining momentum through a burst of strength (like swinging or kicking to begin a pullup) for bodyweight exercises
MetCon
Short for "metabolic conditioning," a structured pattern of work and rest periods to elicit a desired response from the body.
The Time
60
minutes
The Burn
700-1,200
calories per 60-minute class
*Average sourced from Harvard Medical School